The Children's Ministry at Brentwood Baptist is committed to partnering with the home to influence and equip families towards being the center of godly influence while providing safe, secure, and engaging group environments where the whole gospel of Jesus Christ is proclaimed through strong, biblical content.
Sundays
We want children to value coming to church. Each week, your children will gather in either worship or groups. Learn more about what to expect on a Sunday morning below.
Children's LIFE Groups
Sunday | 7:45, 9:00 & 10:30 AM
Children may attend while their parents are in LIFE Groups or Worship.  Classes are available for each grade for all three hours. Teachers prepare to teach using a curriculum called Bible Studies for Life from LifeWay Christian Resources.
Each age group participates in planned learning activities based on a central Bible teaching truth/verse and a Bible story. They will also hear the biblical message on their level of understanding.
Parents will receive a take-home page designed to help them reinforce the biblical message the child learned during their LIFE Group.
Marketplace (Grades 1-5)
Sunday | 9:00 & 10:30 AM
Marketplace is an interactive, multi-sensory experience for children that provides an innovative way of connecting them to Jesus Christ and bringing the Bible to life!
It is an exciting place where kids can go to use all their senses to see, hear, smell, taste and touch what life was like in biblical times.
Each week, they will experience the same Bible story they learned about in their LIFE Group in a unique, fascinating way. Marketplace is a place you can leave your child and know that they will experience the truths of God's Word!
Wednesdays
Impact includes music, large group worship and Bible teaching, missions and more! Your children are transitioned seamlessly from music to worship and then their small groups. Learn more about what to expect on a Wednesday night below.
Impact Kids Choir
Wednesday | 6:00-6:30 PM
Children gain a better understanding of the meaning of worship and how to be supportive worship leaders. This group participates occasionally in Sunday morning worship and related events throughout the year.
Worship & Bible Story
Wednesday | 6:35-6:55 PM
After choir, the kids will gather together into a large group setting for a time of worship and Bible teaching. The Bible story is different each week and will be repeated during the small group track time.
Small Group Tracks
Wednesday | 7:00-7:45 PM
Following worship, children attend a Small Group Track time. The track time leaders will apply lessons from the weekly Bible story time to each activity. The track options are Art, Construction Zone, Discovery Lab, Drama, Indoor Games, Outdoor Games, Sign Language, Trash to Treasure, Kitchen Concoctions, Live It!, Hands-on Missions, and Photography! Children will participate in the same track until the end of the semester and then new tracks will be selected.
Check-In/Pick-Up
You will check-in your child in the Impact Kids Choir room (based on grade) and pick them up in their small group activity room at the end of the evening. Parents can pick up children any time between 7:30-7:45 PM.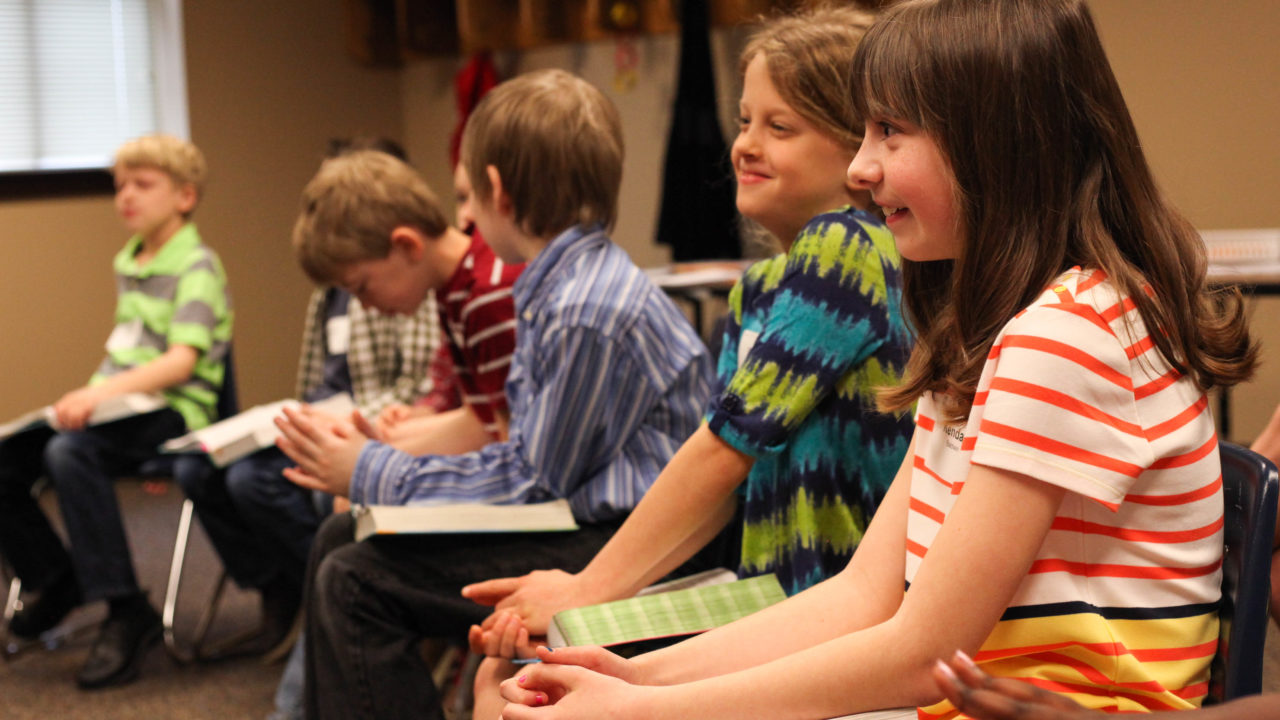 First-Time Guests
Welcome!  We're happy that you're going to visit! Please stop by the Children's Welcome Desk on the second floor to check your child in. Complete an information card and then we'll print two name tags for you. The name tags will print with your child's name, any allergies they may have and the location of their classroom. Place one name tag on your child and keep the other to present when picking up your child. We'll also show you where your child's class is located and introduce you to his or her teachers.
Keeping Your Child Safe
When your student is on the campus of our church, his or her safety is our top priority. That's why we work very hard to have plans in place in the event of an emergency, like a fire or tornado.